One Room Challenge Week Five
Week Five of our One Room Challenge was all about getting the technical details in the room sorted out.  First up we cleared out our office so we could move our mattress out of the bedroom as it officially becomes a construction zone!  We are now sleeping downstairs in our guest room until we are finished.  Second, the bed frame was successfully moved into the bedroom!  It looked very dicey at first - we had to remove the stoppers and the weather stripping from the patio doors to angle it in.   Third, we spent quite a bit of time mapping out where each component of the room will go.  Because we are mounting the headboard and the sconces to the wall we need to be precise.  The absolute best thing about this week was that we were able to see the bed and nightstand in the space side by side and it was trilling to see the stain match so well. 
We unboxed the Vant headboard panels - we are using the George configuration which is four 30" and four 39" panels.   The fabric is the Light Grey Vintage Leather.  I love the mixture of warm wood and the cool leather.  The lights are the Mitzi Lupe.  I have had my eye on this light fixture for a long time and it was awesome to see it in person. It will complement the other black/old bronze metals we have in the room.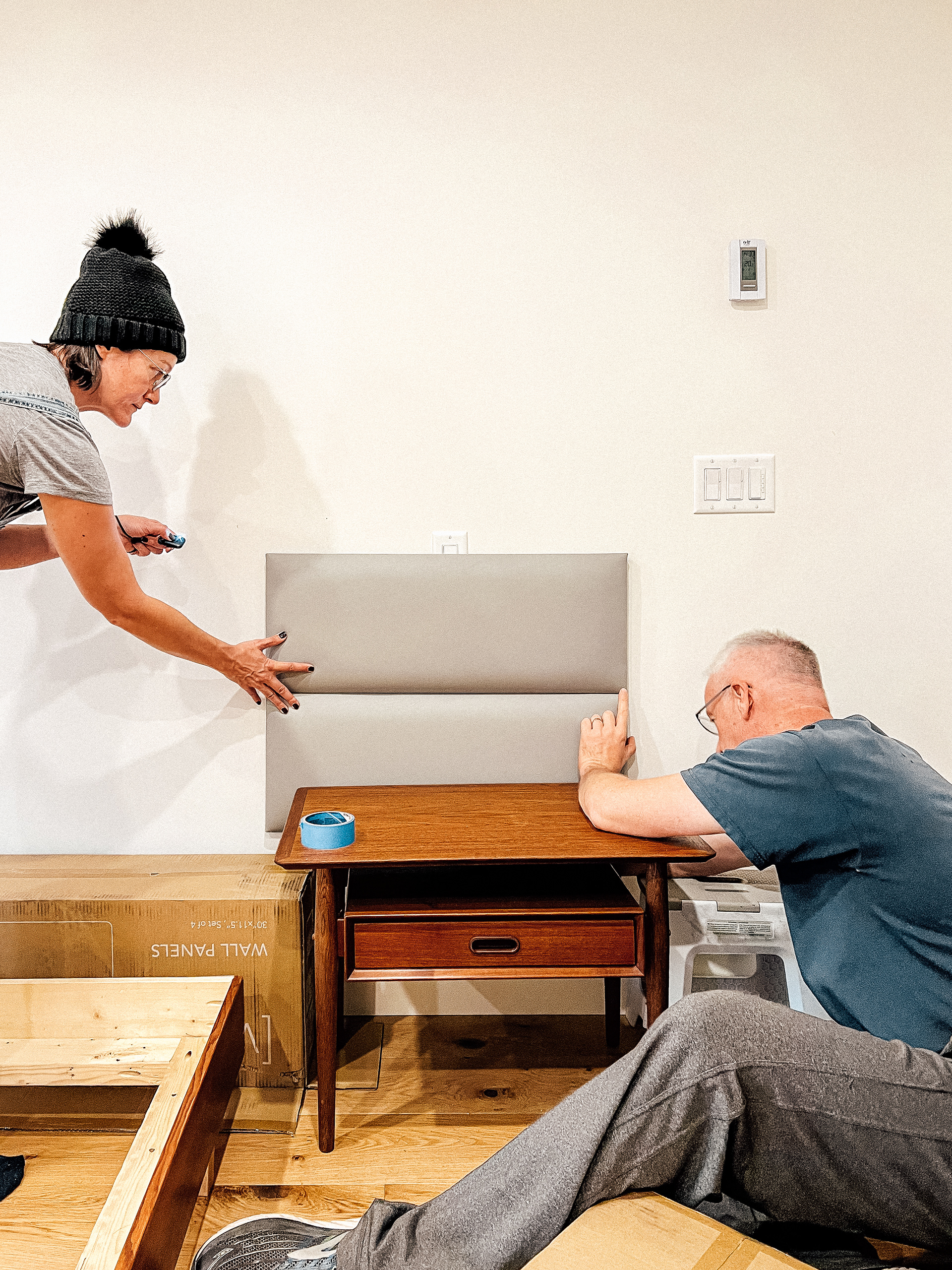 After we unboxed everything and did our best to map out where they will go,  we set about measuring and marking out on the wall all the details.  We have to decide exactly where to cut the dry wall for the light fixtures and where the new light switches need to be moved to.  It was a lot of math and checking and double checking to make sure we have it right!  It's very exciting to have this step completed.  Next up is moving the electrical and patching the drywall.  We'll also be selecting paint and doing some final tweaks to the bed frame.  We still have a lot to go but it's exciting to see some progress in the room.
This post contains affiliate links for your convenience. If you make a purchase through any of these links, we may make a small commission (at no additional cost o you).  Thank you for your support.