One Room Challenge Week 1
After following along with One Room Challenge for a few years now I've decided to embark on my first challenge.  ORC was started in 2011 by Linda Weinstein born out of the desire to finally finish ONE room in her home.  Linda had the idea to motivate herself and a small group of online friends by setting up a challenge to work along side one another with the goal of having one finished room. She titled the event One Room Challenge®, as it became evident that staying focused on one room, from start to finish, was indeed a challenge.  ORC has grown into a global twice a year event.  I have been planning to finally finish our primary bedroom for a few years and this challenge is just what I need!  
Our entire main floor was renovated in 2019 but the primary bedroom ended up being kind of a blank slate.  Here are before before pictures of what is looked like before we did the renovation.  
In the new design we pushed the bedroom walls out into an adjacent bedroom to gain an additional 75 sq feet, going from 11x11 to 15x13. The new layout makes much better use of the space.  We added 12 feet of floor to ceiling closets on one wall and replaced the window with a large sliding door that adds a lot of light.  Here is a after shot of the reno - a vast improvement but the bed still took up a lot of space and it is a lot of white.  This bed was also a queen and while we loved this bed after we got a 90 pound dog who loves to snuggle it just wasn't big enough.
Last year we upgraded to a king mattress.  We changed out the rug and that's about it.  It's still a lot of white.  We didn't get a bed frame so the mattress is on a basic platform.  The nightstands from the old set stayed for a bit but they have since been sold with the queen frame.  We now don't have a headboard and the room is even plainer now!  I have some vintage MCM nightstands we want to add but the height of the platform doesn't work.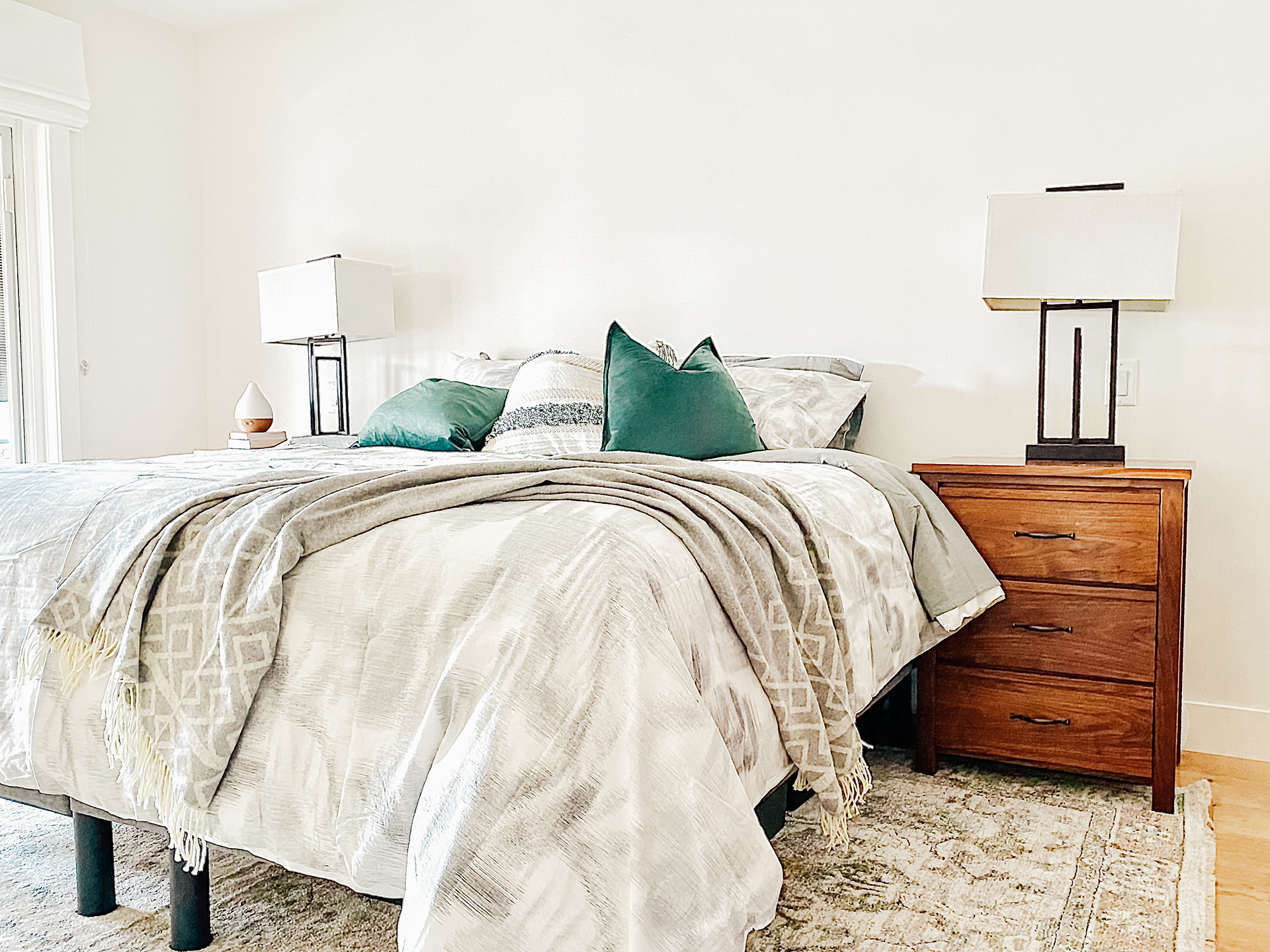 In this challenge I'm planning to update the wall colour, add new wall mounted lighting, install a panel headboard, hang some custom artwork and the biggest project of all - make a bed frame!  The new bed frame will be the right height for the nightstands.  We need to make the bed because the vintage nightstand are also vintage height.  They are only 19" high so the bed will need to be very low profile.  Here are my two mood board options with different artwork and paint options. Can you picture it?  Do you have a favourite?