Rating My Reno - Ensuite Bathroom
To all the designers out there, have you ever been tempted to ask a client for a post renovation report card? As I was my own client on my renovation, I'm constantly reviewing and rating our choices. I'm happy to report that for the most part I'm still very pleased with the results a few years in. Of course having lived with my choices, there are some things I'd like to change or do differently. I decided to go room by room through the house and give my reno a rating, starting in the ensuite bathroom. 
Vanity: Exceeds Expectations
The size and the design has been amazing. I still can't believe what a small vanity we used to share. It's made sharing a bathroom much less stressful especially for the times when we need to both get ready at the same time. Having so much more storage in the bathroom has also been fantastic. 
Fixtures: Meet Expectations
The Riobel sink faucets design and function have been great but the shower fixture has water spots that don't seem to come off. I'm not sure if this is a flaw in the material or if I just haven't found the perfect cleaner but either way life is too short to spend it polishing my shower head all day. 
Countertop: Exceeds Expectations
I love the natural looking veining that runs the length of the quartz down the vanity - it makes it look like it's carved from real stone. It's also easy to keep clean and has proven to be stain resistant which is fantastic when you accidentally drop your makeup. 
Floor Tile: Exceeds Expectations
The dark tile and dark grout hides everything and is easy to keep clean. The rest of the bathroom is white so having the darker floor really sets it off nicely. The decision to have a heated floor in the bathroom was the best one ever - especially in the cold winter months.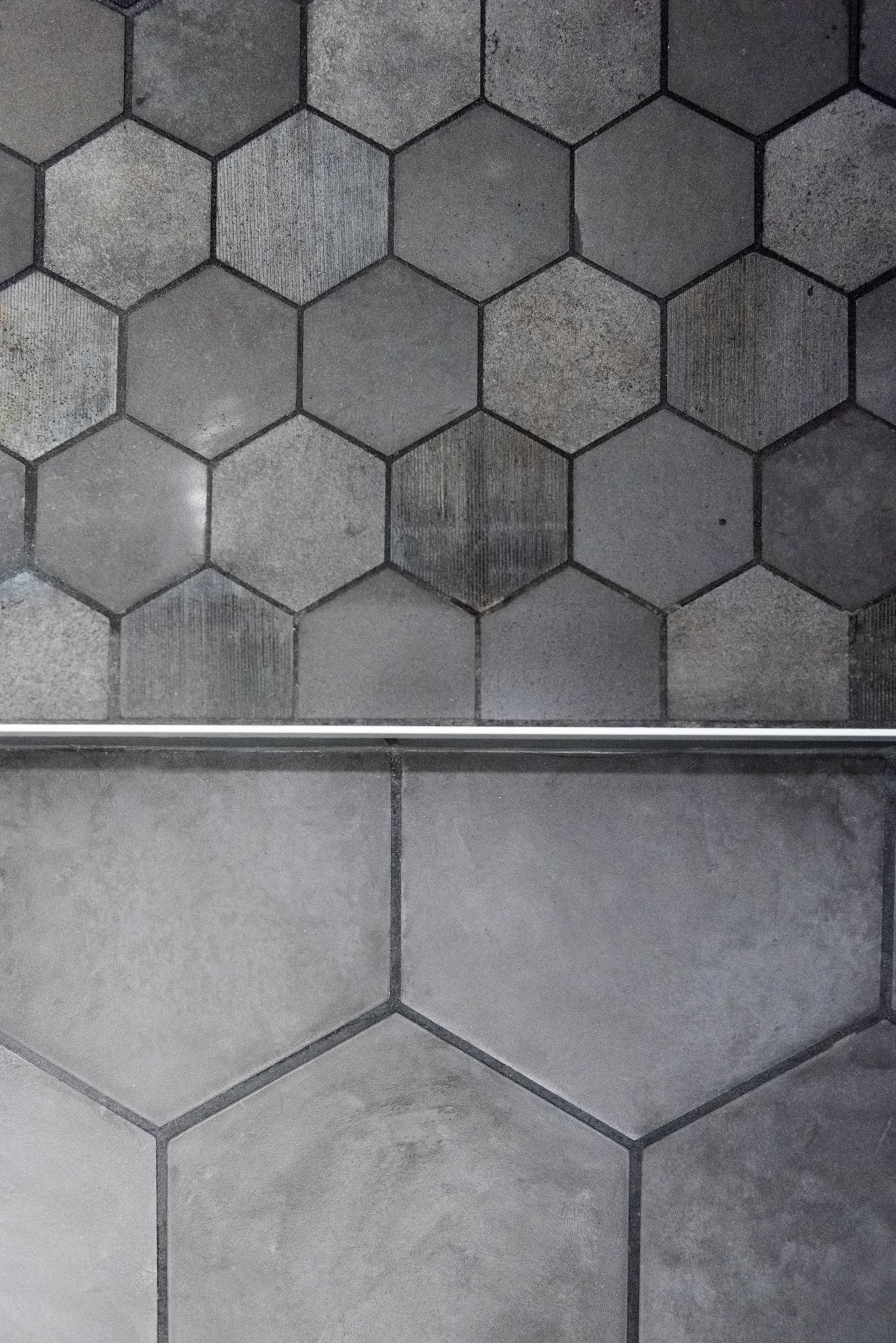 Shower Tile: Satisfactory
I still think this tile is beautiful but I do not love cleaning all those grout lines - especially in the shower. I debated a long time about the shower tile selection and I really wish I'd gone for a smoother, larger tile. While I'm not going to make any changes to it any time soon, I will go with less grout to scrub in future designs.
Shower: Exceeds Expectations
Overall the walk-in shower and glass enclosure has been a great design decision.  It's a nice sized shower and there is plenty of room for storing products on the shelves. 
Lighting: Satisfactory
I love the light reflective chrome finish but the design is a little uninspired.  We made the decision quickly so with more time I might have selected something else.  However the functionality has been great and they hold three bulbs each so there are no complaints on the actual lighting in the bathroom.
Paint: Meets Expectations
We made a decision to go with white on white and it makes it feel bright and open even without a window in the bathroom.  We did Benjamin Moore Paper White on the walls, Cloud White for the cabinetry and Chantilly White for the trim.
Toilet Nook:  Exceeds Expectations
I have no pictures of our toilet nook as the plan to tuck away the toilet works!  It's against the wall behind the shower and it creates a little much needed privacy.  There is storage behind the toilet and while it's not huge it fits the bill.
Now that we're starting to plan for our basement reno, I've been thinking back over all the choices that I made for the main floor. I've learned a lot about design over the last few years but I'm happy to see that for the most part I made some really great selections and I'm still loving this ensuite bathroom. Stay tuned for more reno rating!